Today, 8 March, is International Women's Day, so let's take a look at some of the women of the Holtermann Collection. Many are working class women who raised children and ran businesses like produce stores or hotels, while their husband's mined for gold. Others are depicted in fine garments, posing on the verandas of their humble homes. They are rarely named which makes it hard to research their individual stories. Here are just a few that we can name.

Perhaps, the most famous woman on the Gulgong goldfield was Joey Gougenheim. She was a talented actress who arrived here in her forties and leased Ward's theatre where she directed and starred in a great number of theatrical productions. She also performed at the Prince of Wales Theatre on Mayne Street and leased and managed a large theatre at Home Rule. For someone so frequently in the spotlight, she seems to have shied away from the camera. She is rumoured to appear in a Holtermann Collection photo but has not been named on any image, either as "Joey" or "Mrs Constable" (her married name). Perhaps she is one of these very refined looking ladies (images 1 to 4)?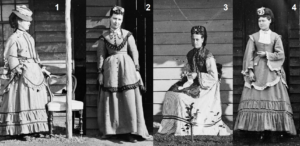 Louisa Lawson, (images 5 and 6) who was born on Edwin Rouse's station, Guntawang in 1848, is another famous face who appeared on the Gulgong gold field for a short section of her busy, high-achieving life. At the age of 24, already a mother, she was recorded for posterity in two Holtermann Collection photos taken in Gulgong. Later, as a single mother she became a newspaper proprietor and, later again, launched the campaign for female suffrage in Australia. She is now also commemorated in a life-size bronze statue in front of the Library in Market Street, Mudgee.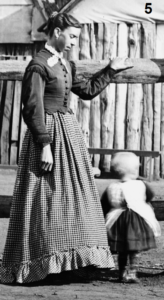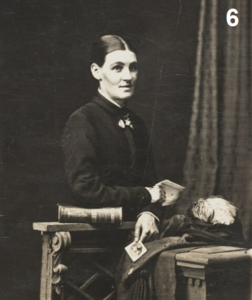 Susannah Jane Heard, nee Randall, was married to R W Heard who is pictured without her in several photos outside his Saddlery and Harness making shop. Together, they were mayor and mayoress of Gulgong in the early 1890s and Susannah was involved in laying the foundation stone of the new Town Hall in 1892.


The foundation-stone of the Town Hall was laid to-day, in the presence of a large assemblage, by Mrs. Robert Heard, Mayoress. She was presented with a silver-mounted myall mallet and silver trowel by Mr. Geo. Smith, the oldest alderman. Copies of the newspapers, together with a record of the names of the officers in the council, were deposited in bottles in the cavity of the stone.
Source: The Sydney Morning Herald (NSW : 1842 – 1954) Wed 27 Jan 1892 Page 7
There are many more worthy women to see in the Holtermann Museum, even if we don't know who they are. 
Photo sources:
1 – Man and women on the veranda of their weatherboard house with bark roof and picket fence, Gulgong, Mitchell Library, State Library of NSW
2 – Weatherboard cottage with bark roof, Gulgong, Mitchell Library, State Library of NSW
3 – Woman in front of weatherboard house with bark roof, Canadian Lead, Mitchell Library, State Library of NSW
4 – Man and two women with bark roof, weatherboard house, Gulgong area, Mitchell Library, State Library of NSW
5 – Louisa Lawson, (mother of Henry Lawson), her son Charles William (born 25 June 1869) and her sister Phoebe Albury, (dressmaker), outside Mrs. Albury's dressmaking shop, Gulgong, Mitchell Library, State Library of NSW
6 – Mrs Louisa Lawson, 1880's / photographer unknown, State Library of NSW
7 – Susannah Heard, Mayoress of Gulgong, The Sydney Mail, 1892
8 – Robert W Heard, Saddler, Gulgong, Mitchell Library, State Library of NSW
9 – R W Heard, Mayor of Gulgong, The Sydney Mail, 1899