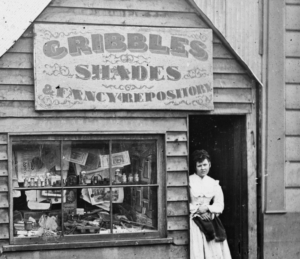 Mrs Gribble was renting this property from George Anthony Tissington, a photographer and commission agent in Gulgong, while he was chasing gold in Queensland.
On 14 August 1872 a fire started in the back section of the building, seen in the charred section at the rear and burnt poles nearby. On 17 August 1872 Tissington had the property up for sale, stating it was formerly occupied by Mrs Gribble, so this photo was taken between 14 and 17 August 1872.
In 1873 the business was in the hands of Miss Jeanette Gribble and she was advertising it as a Cigarette and Cigar Divan. By 1876 the property had been purchased by Louisa Painter and she held it until 1882.
Source: Information supplied by Baldwin & Davis Research, Gulgong (Apr 2007)
Photo: Gribble's Shades & Fancy Repository, Gulgong, 1872
Source: Mitchell Library, State Library of New South Wales
More information: Gribble