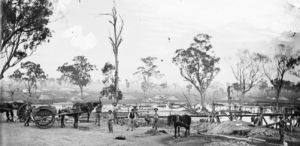 The approaching summer of 1871 was an unpleasant time on the Gulgong goldfield. Two aspects of the dry hot weather caused major problems for miners and townsfolk – dust and filth – as these newspaper snippets attest:
'Down with the dust' is now the universal cry at Gulgong, and no wonder. It is said that every man is doomed to eat a peck of dust during his lifetime, but if that is the case in other localities, Gulgongites are destined to swallow a few bags during summer. The dust is a nuisance and almost intolerable.
Source: Gulgong Guardian, Issue No 35, October 14, 1871
Public Nuisance. The hot, sultry weather that has prevailed for the last two weeks has proved an urgent necessity for … a proper state of cleanness. The filthy and noxious stenches that emanate from many of the allotments are sufficient to create a plague. Dead animals, decomposed vegetable matter, choked up drains, create an odor highly detrimental to public health. If some compulsory regulation is not gazetted before the summer heat comes on, sickness must inevitably be possible with fatal consequences.
Source: Gulgong Guardian, Issue No 37, October 28, 1871
Water was one of the biggest issues for working miners. Too much rain and you couldn't cart your washdirt to your puddling machine; but too little rain meant you had nothing to wash that dirt with! In the spring of 1871, only 18 months after the start of the goldrush, mining progress was thwarted by dry weather. Imagine the stress for all those miners, anxious to find gold but unable to work their diggings.
The long and anxiously expected rain has not yet come, much to the disappointment of the owners of puddling machines, whose supply of water is being rapidly used up, the exception being those situated on Reedy Creek.
Source: Gulgong Guardian, Issue No 36, October 21, 1871
The daily diminishing water supply is becoming a matter of serious moment on this goldfield. There are now only 10 puddling machines in work out of 28 … Rain is anxiously looked for on all the leads, where an immense quantity of washdirt is paddocked waiting to be put through the machines.
Source: Gulgong Guardian, Issue No. 42, December 2, 1871
The dire shortage of water raises the question, how did the goldfields population keep themselves clean? It is a relief to learn that water for domestic use was prioritised over mining purposes:
… it is very probable that the New Year will see all these machines idle, as Reedy Creek has first to supply the immense quantity of water required for the domestic purposes of the whole population, and then to supply the puddling machines. The creek will not, we think, be able to make this demand upon it, and if its water gives out, the result will be awkward, as water will then have to be carted from the Cudgegong River, near Guntawang. One good thunderstorm would alleviate all these dark possibilities, and place the supply beyond all doubt until the Autumn rains would set in and set all minds at rest.
Source: Gulgong Guardian, Issue No 43, October 28, 1871
The pressure on domestic lives is related here:
The want of water is now severely felt for all purposes, but particularly for domestic purposes, as they are unable to purchase it in sufficient quantities to have a liberal supply for cleansing purposes, their health suffers, and, ultimately, sickness sets in. This is the cause of one half the sickness prevailing.
Source: Gulgong Guardian, Issue No 49, January 20, 1872
For every need, Gulgong seemed to have entrepreneurs ready to sell a solution. In early 1872, in one of the driest spells, public baths were opened in the town.
Public Baths have been opened in Belmore Street. There are altogether 8 bathrooms, very neatly fitted up with shower attachment and considering the present weather on Gulgong the public should not only patronise, but appreciate the endeavours thus made for their comfort and cleanliness. The prices considering the accommodation provided, and the cost of the water, are reasonable.
Source: Gulgong Guardian, Issue No 49, January 20, 1872
The business can't have been too successful. A month later the whole establishment was advertised for sale!
Baths to be sold on account of Mr. Westhoff on the corner of Belmore and Medley Streets Consists of the Baths, a 3 bedroom cottage, and shop. It has a 66 feet frontage to Medley and 166 feet to Belmore.
Source: Gulgong Guardian, Issue No 51, February 3, 1872
The baths were still operational a month later which would at least have seen the population through the hottest summer months.
Hot Baths from 1am to 8am and a Cold Baths from 6am to 8pm. Fresh water for each person. Westhoff Proprietor.
Source: Gulgong Guardian, Issue No 62, March 20, 1872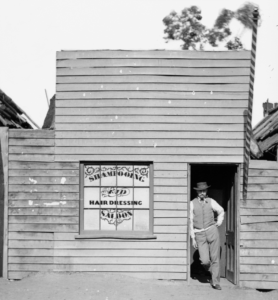 Over two years later, the introduction of public baths was attempted again and buying a season ticket was the recommended solution for customers wanting to clean themselves over summer. One dreads to think what happened in the off season!
Thomas Bowman Scurrah, originally a publican in the Walgett area, set up as a hairdresser on the Gulgong goldfield. Three of his children died between 1871 and 1872 which may have prompted him to diversify his business and tackle the hygiene of the town.
Mr. Scurrah, the hairdresser of Queen Street, located  opposite O'Neill Brothers, announces the opening of his Bath rooms for the season on Saturday morning next. The rooms have been refitted and varnished and are really comfortable. Both plunge and shower baths are provided and with hot or cold water as may be required. The season is now on that baths will be found very necessary for health and comfort, and it is cheaper to speculate in a quarterly ticket with Mr. Scurrah than to erect a bath room.
Source: Gulgong Evening Argus, October 15, 1874
For those not convinced, Robert N Collins was available to knock you up a tin or galvanised-iron shower bath for your home. The only drawback would be how to fill it!
Photo sources: