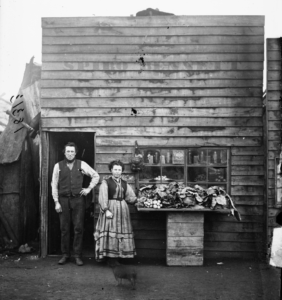 When Spiro and Ann Bennett (nee Carroll) posed for this photo in front of their shop in 1872, they can hardly have imagined that life-sized cut outs from the same image would be standing in the American Tobacco Warehouse on Mayne Street over 150 years later. It would seem especially strange as they only spent about 3 years in the town. Despite that, descendants of Spiro and both his wives, have remained connected to Gulgong.
Brian Patrick, a descendant of Spiro and his first wife, Ann Carroll, provided the following summary of his life to the Gulgong Holtermann Museum:
The Life of Spiro Muscuri BENETATOS (Bennett)
Spiro was born in 1832 in the Ionian Islands, Greece, to George BENETATOS (a ship's captain) and  Anna Cornelia MUSCURI. Spiro immigrated to Australia in the early 1860s. At that time, Spiro anglicised his surname to BENNETT.

Once in Australia it seems he moved to the district of Yass, NSW. There he met Ann Jane CARROLL and they married in July 1866 in Gundagai, NSW, when Ann was 17 years of age. Ann's parents were Charles A CARROLL and Mary Ann McCORMICK. Both parents had emigrated from Britain (Ireland & Lancashire respectively) prior to 1844. Ann Jane was one of 5 siblings and the only one to leave the Yass district. Both Charles and Mary Ann died at Gundagai, NSW (1867 and 1884 respectively).

1866-70 – LUCKY VALLEY GOLDFIELDS

Spiro and Ann had their first child (Diamontina) in Young, NSW, the same year they married, and then moved to the goldfields at Lucky Valley, Warwick, Queensland (also in 1866) to seek their fortune gold prospecting. While at Lucky Valley, Ann and Spiro had another three children:

Diamontina – b 1866 in Young
Cleopatra – b 1867
Spiro – b 1868 
Alfred Earnest – b 1870

1871-1884 – GULGONG GOLDFIELDS

There is evidence that Spiro was a tent and tarpaulin maker in Toowoomba in June and July of 1870. Some time after that, the family moved to the Gulgong goldfields. It is likely that Spiro was not successful as a fossicker or miner, so he earned his living supplying fresh food to those living on the goldfields.

Spiro and Ann had four more children while at Gulgong: 

George – b 1872; died 21 November 1872, aged 5 months, from marasmus of 2 months' duration. Buried Gulgong.
George – b 1873; died 2 December 1873, aged 4 months, from pneumonia of 2 months' duration. Born and buried at Home Rule.
Aspasia – b 1873 (NSW BDM14506/1873)
Naomi – b 1879; died 1879 (NSW BDM 5444/1879) in Forbes.

It appears that two sons named George died in infancy. From these death records, Spiro's occupation can be seen as a storekeeper in Gulgong (1872) and a miner at Home Rule (1873).

A daughter, Naomi, also died at birth. Little is known of Spiro's wife after the birth (and death) of their eighth child. The only evidence of Ann's death is that Spiro was recorded as a widower on the certificate of his second marriage in 1885.

1879 – 1885 – BRISBANE QLD

After living at Gulgong, Spiro moved to Brisbane sometime between 1879 and 1885. While living at a boarding house in Adelaide Street, Brisbane, he met Mary Jane ETTOCK who was also living there. At this stage Spiro was 53 years of age and Mary Jane was 26 years of age. Mary Jane had emigrated from Lancashire, England on 30th March 1885 where she had been a weaver and a nurse.

1885 – SYDNEY NSW

Spiro married, Mary Jane on 20 May 1885 and they moved to Sydney, NSW. They had only known each other for a maximum of 7 weeks. They started another family immediately:

Homer Basile Muscuri – b 1886;
Spiro – b 1887;
George Socrates – b 1889;
Naomi – b 1893;
Diamantina – b 1898.

Spiro was 66 years old when this Diamantina was born. Mary Jane was 39 years of age. Strangely, most of his children from this marriage had the same names as the children from his first marriage.

Spiro died in Mortdale, Sydney, NSW in 1924, aged 92. During his lifetime he was a gold fossicker/ miner, tent maker, shopkeeper, hawker, weaver and, in his later years, an herbalist and "a Teacher of Languages" (probably Greek) in Sydney.

Source:  Research undertaken by Brian Patrick, descendant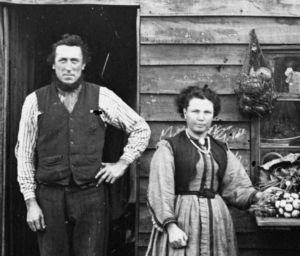 Lynne Hawkins, a Gulgong local and descendent of George Socrates Bennett, son of Spiro and his second wife, Mary Jane Ettock, provided the following notes:
Mary Jane was the second wife, married at the General Registry Office, Brisbane. She hailed from Denton, Lancashire and arrived in Australia prior to 1885. She was 23 at the time of her marriage and had probably only known Spiro for about 6 weeks.

Apart from other jobs stated in the previous document, there is evidence that Spiro was also a tent and tarpaulin maker in Toowoomba in 1870.

There is conflicting evidence as to whether there were 3 or 4 children born in Gulgong. There are 2 death certificates for 2 Georges born between June 1872 and September 1872. Ann doesn't appear to be heavily pregnant in the photo. On the death certificate the mother is Ann; one George is supposedly buried in Gulgong and the other in Home Rule.


Source:   Research undertaken by Lynne Hawkins, descendant
Further information about the long and varied life of Spiro Bennett can be found here.
Visitors to the Gulgong Holtermann Museum can see Spiro and Ann's life sized effigies in our front foyer (where entry is free). Come and prolong the photo's history by taking a selfie with the pair.
Photo sources: