With the discovery of payable gold on Red Hill in 1870, came opportunities for all. No matter who you were or where you came from, if you could get to Gulgong you had a chance to find "wondrous treasure".
And it was a golden age for hoteliers. For where there are miners, there are surely men who need a drink!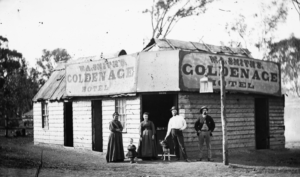 It's not surprising, then, that many of the hotel names reflected this. At one time, Gulgong had hotels named Golden Crown, Golden Fleece and Golden Age. There was also a Golden Age Hotel at Canadian Lead, licensed to William A Smith (pictured) and a Golden Bar Hotel at Home Rule.
It's not easy to determine how many hotels existed at the height of the Gulgong Gold Rush. Businesses came and went depending on financial success here and the lure of rushes elsewhere. 
In 1872 the following hotels graced Herbert Street:
Golden Age Hotel – Queen Street Gulgong
J DEITZ
Having erected the above Centrally Situated Hotel, will be glad to welcome his old friends, and attend to their wants. Visitors will find that every care is taken to provide for their comfort and privacy. The Stock of WINES and SPIRITS, &c., comprises all the best brands, chosen by a connoisseur.
The STABLING is secure and commodious.
Source:  Gulgong Guardian, Issue No 1, February 18, 1871
In the same year, Queen Street (now called Mayne Street) was home to the following hotels:
Also described as being in Gulgong were the following hotels, many of them also on (or near) the two main shopping streets:
That's 42 drinking establishments, not counting the various ones set up on the outskirts – at Black Lead, Canadian Lead, Caledonian Lead, and Home Rule – where there were at least another 25 licensed premises! In addition to this there were Billiard Halls, Breweries, Wine Shanties and Sly Grog Shops. In those days it would have caused much confusion if you said you were headed down to your "local" for a brew!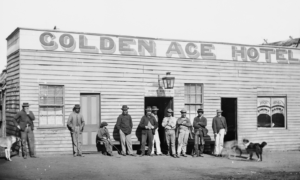 The Golden Age Hotel on Mayne Street was built by Joseph Deitz in December 1870. Deitz was a member of the party that found the first gold on Red Hill, Gulgong. In July 1871 he sold out to Paul Hartford from Mudgee [for £400] and erected a new hotel at Canadian Lead, called the United States Hotel (because the "Golden Age" name was already in use there).
We visited the Canadian township on Monday, and were truly surprised at the development in the building line that has taken place. There are seven public houses in full swing… Joe Deitz late of the Golden Age Hotel, Queen Street, had just obtained his license for by far the best hotel in the township, in fact there are very few houses on Gulgong to surpass it, in material, finish, extent or accommodation.

Source:  Gulgong Guardian, Issue No 78, May 15, 1872
Henry Hilton, who previously had the Hotel de France in Herbert Street, became the licensee of Gulgong's Golden Age Hotel by June 1872 and some time after this photo (above) was taken he changed the name to the Hotel de France. Later in 1873 the hotel closed and it became the home and shopfront of a series of chemists. The site has remained a chemist shop in Gulgong to this day. 
Source:  Information supplied by Baldwin & Davis Research, Gulgong (Dec 2006)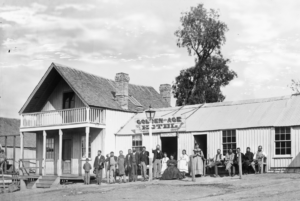 Another noteworthy Golden Age Hotel is the stylish building at Trunkey Creek, where Patrick John Glasheen was licensee from at least 1869 to 1873.
Trunkey Creek – originally a village named "Arthur" – is another of the gold mining communities visited by the American and Australasian Photographic Company resulting in its place in the marvellous photos of the Holtermann Collection. One of the views of Trunkey Creek township was taken from the upstairs verandah of this hotel. 
"Golden" is an adjective that pervaded the language. Miners were "golden hole men" who formed "golden expectations" of "golden prospects". There were "golden opinions", "golden reputations" and "golden emblems of colonial happiness" (wedding rings). It was the word for everything that was good and there was a strong faith in the ultimate golden future of this locality. And why, not? You could literally step into the street and find gold there.
Golden Streets
An unusual find of gold was made on Sunday last in Queen Street. The continuous rain that fell for several days previous had worn a small gutter in front of Driscoll's Hotel and while George Sewell, a lucky Happy Valley man was crossing the street to enter the hotel his practiced eye caught the glitter of gold in the gutter. Stooping down he pick up a nice sized nugget 4ozs 14 dwts uncovered after rain.

The news of the find soon spread and a crowd soon gathered with knives and bits of stick, were fossicking on the Sabbath morning, for gold that corrupts. With the discovery of a second nugget, 1oz 15 dwts, by George Matthews' son, the crowd size increased again back up to Red Hill, on the Leased Claims Company's ground, which showed more enterprise than discretion. It is reported that an unauthorized fossicker found a nugget on this claim before Christmas which he sold for £407/6/-.

Surely when the streets of a town are paved with gold, the Government ought to make them fit for traffic.
Source:  Gulgong Guardian, Issue No 148, January 15, 1873
Photo sources: