You might wonder what a gold bible could have in common with the Holtermann Collection. Our Research Team has the answer.
A German immigrant living in Woollahra, Peter Gondolf, purchased the ornate bible with money earned from gold discovered in Hill End. The birth dates of Peter, Johannah and their eight children are hand written on the 'Births' page of the bible. Four of those family members including the parents and their two oldest children, appear in portraits in the Holtermann Collection.
The magnificent Gondolf bible, kindly donated by Helen Schindler, can be seen when you visit the Gulgong Holtermann Museum.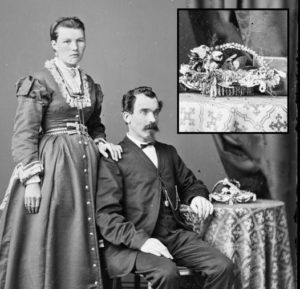 It is likely that this portrait of Peter and Johannah Gondolf was taken by Beaufoy Merlin and his assistant Charles Bayliss in their studio at Hill End. While the location is not stated for the Gondolf photos, the floor covering, curtain, tablecloth (reversed) and flower arrangement match those in many other portraits known to be taken in that town. See inset of identical flower arrangement from the portrait of
Mr Isaac Augustus Mobbs
.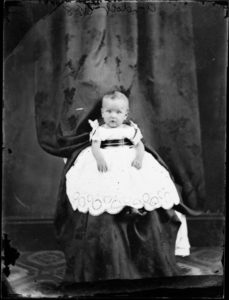 Four-year-old
Augustus
and baby George Gondolf appear in five of the Holtermann portraits. This is no mean feat. Children posed a problem for photographers of this era. They needed to be kept still for the long exposure times involved in the wet plate process.
Baby George Gondolf  is held on the lap of a woman partly hidden by a curtain. You can see the outline of her body. Her light-coloured skirt is not fully concealed. In some of the photos of Augustus there is evidence of a neck restraint, designed to keep the child at the correct focal distance from the camera, as can be seen in photos on our Museum touchscreens.
Photos from Mitchell Library, SLNSW:
Gold miner Peter Gondolf and his wife Johanna, nee Scheibl (a2823169)
Baby George Gondolf (a2823750)