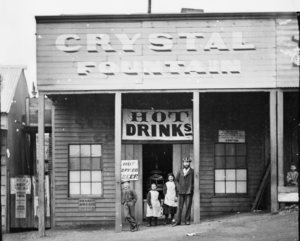 The Crystal Fountain Cordial Factory was located on Herbert Street next to John Hunter's Boot Store on the corner of Herbert and Mayne. In addition to selling cordial, the premises also served as a branch for the Argus newspaper.
The proprietor, Alexander Campbell Cameron, and his son Allan, were very good singers who performed in amateur productions at the various theatres of Gulgong, and at benefits and church tea parties.
Source: Information supplied by Baldwin & Davis, Research Gulgong (Sept 2006)
1871 – HOT WEATHER

It has been intensely hot during the last few days, so that the opening of Cameron's Crystal Fountain, on Saturday last, created quite a sensation. The proprietor was long and favourably known on the Lachlan during it's palmy days, and more recently at Grenfell. At Gulgong Cameron has a most favourable location, and has fitted up his place in fine style. The fountain in the centre of the bar, discharging a constant stream of ice-cold water, has a most refreshing look, and will, no doubt, attract much patronage.
THEATRICALS AT GULGONG

Besides

Cogdon's

theatre

, there was

Ward'

s — a larger building even than the other, though by no means so replete with stage accessories. Sometimes Allan Cameron — an old Grenfell man, and who had the celebrated Crystal Fountain in Herbert-street — and his clever little son would perform there; and "Joey" [Gougenheim] herself would sometimes condescend to play with them for some charitable purpose.
LOOKING BACK

'Alex.' Cameron, one-time mayor, cordial manufacturer and good citizen generally. The late Mr. A. C. Cameron visited many goldfields in the west including Forbes, Grenfell, Gulgong and Mudgee. He conducted several cordial factories, invariably christening his product "Crystal Fountain." He had a very pleasing voice and his singing was always a highlight of the entertainments in which he delighted to take part.

It is interesting to remember that he sang at the opening of the Roman Catholic Church at Mudgee. He was an expert in the making of cordials and aerated waters, and took first prize at the Royal show on one occasion.
More information: The Crystal Fountain
Photo Source: 
– Alexander Campbell, Crystal Fountain drinks store, Mitchell Library, SLNSW