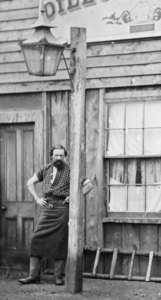 This story has enough intrigue for a Netflix biopic, but don't worry, Blanchard was an actual butcher and not a serial killer or blood-thirsty murderer. He was so nice, in fact, that he went on to be Mayor of Gulgong!
Alfred Blanchard can be seen in at least three photos in the Holtermann Collection. In one, he is standing outside his butcher shop on Mayne Street and in the other two he appears to have wandered over to his neighbour's businesses – Michael Dillon's Hotel on one side and John Howard's Red Hill Hotel on the other. A fourth photo of these three buildings – in a view of Mayne Street looking east –  shows a clean-shaven man in butcher's attire standing outside Blanchard's store, presumably an employee.
[Click on the links above for high resolution images, or come into the Gulgong Holtermann Museum and we'll show you.]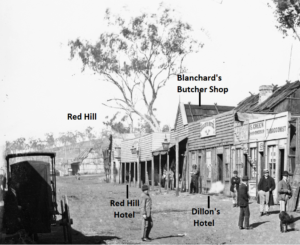 Blanchard's first notable appearance in the news was in the divorce case of Booty v Booty. After 11 years of marriage and the birth of two daughters, Emmeline Amelia Booty nee Gaudry departed her husband's home in Obley NSW, left her girls in the care of a school in Bathurst and moved in with Alfred Blanchard in Gulgong. Despite an explanatory letter at the time, she wrote another letter to her husband a month later, further explaining her situation. As they featured in the divorce proceedings, both letters were reported in the newspapers of the day. The letters give us an extraordinary insight into the plight of a woman trapped in an unhappy marriage, at a time when the domestic affairs of women were rarely written about.
Dear Booty, Alf received a letter to-day from you, stating your anxiety to know where I am. I am here with him. You can not mean to say you did not know or feel sure that it is with him that I would sure to be. Where else could I go without means? When I saw him at Molong he was coming here, and I persuaded him to take me with him. I thought that the letter I sent by Toby I made it clear to you I made up my mind long ago that I would not stay there if I possibly could get away. I have not been comfortable for years. You may be surprised at my leaving a home that had full and plenty in, but what was that to me when I felt it was not a home. Lawrence was here on Sunday persuading me to go home again. Is it possible that you would have a woman back who dishonoured you eight years ago, and in this one thing deceived you all that while and now ends all by a disgraceful flight…
Source:  Evening News (Sydney, NSW : 1869 – 1931) Thu 18 Nov 1875 Page 3
Other details that came out in the case include the fact that Alfred Blanchard was known to the Bootys in their home of Obley (west of Wellington NSW) and that since her arrival in Gulgong, Mrs Booty was living with the unmarried Mr Blanchard as his wife. The divorce was ultimately granted and Alfred married Emmeline at the Church of England in Gulgong in 1877.
From 1877, news of Alfred Blanchard turns to coverage of his political activities. In municipal elections over the next decade he frequently out-polled various famous names from the Holtermann pictures (Charles Bird, Charles Zimmler, Richard Rouse, Robert Heard, William Wesley and others) and served as an alderman for the town.
In 1889, at the age of 50, Emmeline Blanchard died of uterine cancer. Alfred was still working as a butcher, although his premises were by then in Herbert Street. 
A very old and much respected resident of Gulgong, Mrs. A. Blanchard, died during the week at her husband's residence, Gulgong. The deceased lady was an invalid for some time, and before her illness was a general favourite with all who knew her.
Five years after her death, and after serving on the council for many years, Blanchard was elected as Mayor in February 1894. In August of that year, influenza swept through Gulgong and Alfred Blanchard became seriously ill and died from "inflammation of the lungs". His funeral was described at length:
…As a last tribute of public respect and regret, some five hundred residents of Gulgong and surrounding localities, representing all classes, assembled for the mournful occasion…The funeral was the largest seen since Gulgong's palmiest days, and must be a gratifying, if sad testimony, to relations living, of the general esteem of the community towards the deceased, who will be universally missed on account of his many useful aud good qualities as a townsman and benefactor to the poor. -" Guardian.
Alfred Blanchard's obituary recounted his early life and described his years in Gulgong in glowing terms:
…Deceased will long be remembered in Gulgong for his upright conduct, his liberality, his kindly nature and charitable disposition. He was in every sense of the word a good townsman, and his loss will be keenly felt throughout the district.

He then started in business as a butcher at Goodrich, near Wellington, and ultimately came to Gulgong, where he has since resided continuously. Mr Blanchard took a lively interest in local affairs for the well-being of the community, and few, if any, townsmen showed the same activity. Soon after his arrival here—the Municipal Council having been some two years in existence—he was nominiated as an alderman at the municipal yearly election, held early in February, 1878. From that time to the present, covering a space of 16 years, he continued to hold his seat, being re-elected from time to time, polling a large number of votes on each occasion. The deceased was unanimously elected Mayor for the current year and has done good work during the six months be was in office.
Source:  Windsor and Richmond Gazette (NSW : 1888 – 1965) Sat 1 Sep 1894 Page 6
Alfred was buried next to Emmeline in the Gulgong cemetery.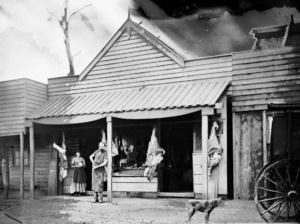 Photo sources:
Mayne Street, Gulgong, looking east, Mitchell Library, SLNSW
John Howard's Red Hill Hotel, Gulgong, Mitchell Library, SLNSW


Click on the links to view the original high-resolution images via the State Library website.