In my last article, we saw a man who managed to get his face into three photos in the Holtermann Collection. You can see those images here. It got me thinking about who was the most photographed person in the Collection. Well, Holtermann probably. You get to be a bit of a celebrity when you find the largest ever nugget* of gold in the world! But there are a few other contenders who seemed to want a share of the limelight.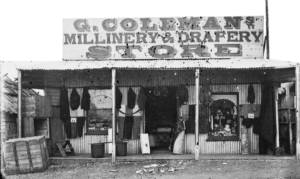 When the photographers of the American and Australasian Photographic Company came to town in 1872, George Coleman had a millinery and drapery store on the eastern side of Herbert Street – between Queen and Bayly Streets.
Mr. Coleman has now opened his well stocked millinery, drapery and clothing store in Herbert Street. All our drapery and clothing stores are looking very attractive just now, the shops when lit up of an evening, being very enticing.
Source: Gulgong Guardian, Issue No 10 – 22nd April 1871
The store had opened in April of the previous year. In an unusual turn of events, it is one of the few Gulgong stores that Merlin and Bayliss photographed with no people out the front!
By now, the photographers had an established pattern of advising when they would be arriving in a town. Newspaper advertisements stated their intention to photograph every public building and private residence in a town. It gave people forewarning to dress up, or tidy their premises. The photos could then be purchased from the company studio and used for advertising or sent as a postcard (or carte-de-visite) to distant friends and family.
Somehow, George Coleman missed the memo. Or missed the moment the photographers cart covered his section of Herbert Street. Perhaps that inspired him to make the most of the occasion when the photographers ventured to Home Rule, where Coleman had a branch store.
Mr. Coleman, the draper of Herbert-street has also opened a branch, well supplied with seasonable and fashionable goods:—thus saving people the perils and expense of a trip to Gulgong to invest their money:

Source: Gulgong Guardian, 13 July 1872
This is Coleman outside his Home Rule store. But wait, there's more. There's a photo of a bark dwelling attached to his Home Rule store and a man with almost identical features and stance appears in shadows.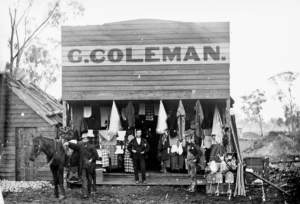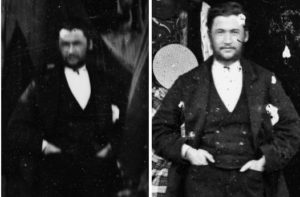 Is it Coleman posing for the camera again? Here is a comparison of the two men from the photos above. I'm convinced by the similarity in clothing, hairline and pocketed hands. What do you think?
There's no doubt, when you see the photo of White & McCulloch (Chemists and Stationers) that the dapper gentleman on the far right is George Coleman. In his short time before the camera he seems to have developed a signature pose!
I wish I could tell you that Coleman had a long and happy career providing haberdashery to the miners of Gulgong and Home Rule but by the end of 1872 his business was up for sale.
TO DRAPERS, CLOTHIERS, and MILLINERS.

For SALE or to be LET, at the now flourishing town of GULGONG.

Mr. GEORGE COLEMAN, in retiring from the Drapery, Millinery, and Men's Clothing Business, at Gulgong, wishes to dispose of his premises, consisting of a fine Iron STORE, 28 feet x 24, with back parlour, bedroom, kitchen, stables, coach-house, &c.; built on a freehold allotment, 36 feet by 105 feet; the best business site in Gulgong.

This shop has now been open two years, doing a fine steady trade—a sure fortune in a few years for the purchaser or tenant. NO STOCK left, and no consideration for goodwill required.

Price, £350; or to LET at £3 10s per week.
Despite his short time in the district, Coleman managed to equal Alfred Blanchard, butcher and Mayor, by appearing in three photos in the Holtermann Collection. If you know of any more contenders for "most photographed", please send an email to research@holtermann.museum.
Photo sources:
George Coleman's Millinery & Drapery Store, Gulgong, Mitchell Library, SLNSW
George Coleman's General Store, Home Rule, Mitchell Library, SLNSW

Click on the links to view the original high-resolution images via the State Library website.
* Technically what Holtermann and his company found was a conglomerate of both quartz and gold so not, strictly speaking, a nugget.